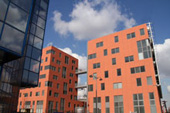 The Extreme Universe Laboratory has a wide network of collaborations and scientific links with international partners. As part of active exchanges, our students are offered the unique opportunity of performing 72h-long internships in prestigious foreign Universities.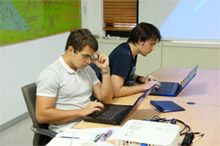 First-rank faculty and young researches of the host institutions provide our students with lectures, exercises, and lab work on cutting-edge research in the field of High-Energy Astrophysics.
Boris, a 4th year student at MSU and one of the 2012 interns, comments: "The internships combine both theory and experiments, so I learned a lot on both fields". "I think it is a very useful experience for me and I am very glad to be part of these internships" adds Egor, a 3rd year student from MSU.
Format of the internship:
Undergraduate students are supervised by a senior member of the EUL staff to travelwith them from and to Moscow. An intense schedule of activities is planned over a period of two weeks, covering a variety of subjects, with main focus on Gamma-Ray Burst (GRB) physics, modeling, and detection in the X-ray/gamma-ray energy bands. Egor says "As for me, I discovered a new field of research. I learned about High Energy Astrophysics and GRBs, and also worked on measurements with photomultipliers".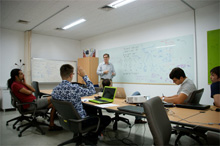 Alongside top-level lectures and lab work, the internship provides the students with a great opportunity to expand their scientific and personal horizons by putting them in contact with the international community they will be a part of in the future. A new stimulating environment offers the opportunity to learn by doing and interacting with active researchers coming from all over the world.
And after all the great science, there is still some time for sightseeing and local cuisine.